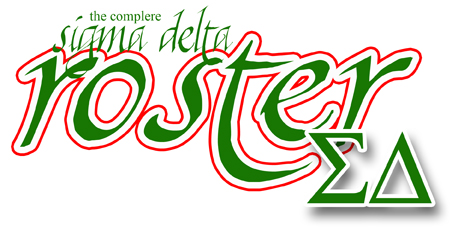 All Sigma Delta members / presidents and award winners are listed here.
For the privacy of our members, contact information will not be shown. Members highlighted in green next to their name have some form of current contact information.
Blue Highlights have no Contact info.
IF ANY INFORMATION IS OUT OF DATE OR YOU WOULD LIKE YOUR PICTURE EDITED OR REMOVED PLEASE CONTACT OUR WEBMASTER!
Contact our webmaster for additional information pertaining to a member.
Click the links below to find a member you are looking for.
Key:
GRAD - Year Graduated
P - Pledge Class Number Total