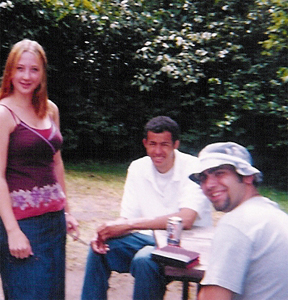 No one is complaining! Awesome!
Alison Oprzedek... AKA Rainbow Brite...
She turned out to be the strong leader of Sigma Delta in this period of time making sure the organization was primed and ready for the 30th Anniversary taking place that year.
While doing this, she made it a point to continue along with the traditions that the campers before her had started. Of course, that also meant finding new campers as well. The task was not easy. The current roster having heard of the horrors from Carebear and Rubber Monkey were much too terrified to attempt another outing to the land of cheese and beer.
No matter, for RB decided if she could not look for the current members to go, she would dip into the past. One such sucker was Jonah "Boner" Schneider. (Alpha Omega), a man who is the poster boy for birth control. The next soldier, would be Shane "Greasy Pole" Muir (Beta Beta), who is quite literally "scary". He would take on any challenge that would come along. With these newbies, the veterans Magoo and Goofy decided to go back as well. She had her troop, only this time, she was the lone female. She was pretty sure, it would be the most drama free trip of all time.
Women Smoking Cigars?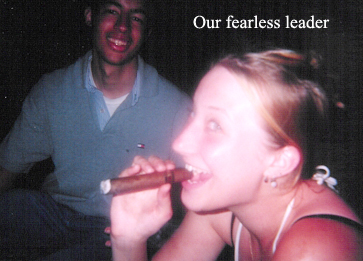 Always Hot
The trip started like the rest, and the group continued back to the same campgrounds as before. This year, Magoo brought a tent.* It was awesome.
(* F&L II - Magoo was tentless the year before. Lame)
Rainbow Brite wanted to make sure that the "Fear" would not creep up on the travelers as quickly as it did in previous years, so she suggested that they should go explore the Wisconsin Dells main strip in search of adventure and fun.
What the group found was more touristy nonsense then anyone from Chicago should ever have to go through. However, that would not stop them all from getting more Olde Time photos taken. They consumed food, went swimming, tackled the great restaurant of MooseJaw and drank all its micro-brews. At night they smoked Cuban cigars (Not the ones from the Wisconsin Dells Strip… they are fake) and watched bonfires. In the day they played mini-putt golf at Pirates Cove, and relaxed in the lazy river.
RB had made sure that no "fear" would creep into this trip.
MOOSEJAW...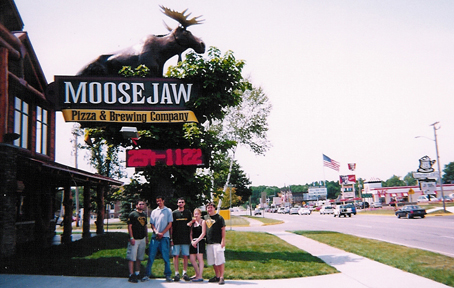 before it got crowded... sigh
But again, if you try to suppress the "fear", it only comes back at you twice as strong. It would return in the form of a game that would loom over these camping trips and Sigma Delta for years to come. A simple game that Magoo and Goofy played the prior year came back to the forefront.
Turbo Cups was that game.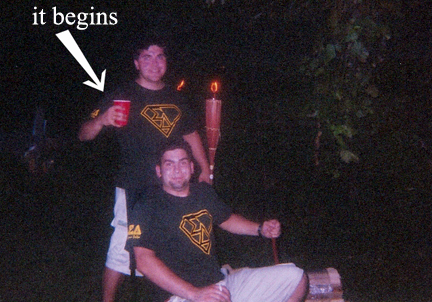 DUHN DUHN DUUUUUHNNNNNN
Engineered by "Dick Doubleday Granger" for beginners and professionals alike, the game knew no bias. All were welcome to play. But this is how the "fear" once again tricked our campers.
The blur happened, the lights went out, and all that was left was our heroes in a pile of garbage and cylindrical cans. The trip was over so fast and with no recollection, the group headed back for the great city of Romeoville with no memories intact.
The "Fear" would follow them home in the form of Goofy's car. The great land of Baraboo was unforgiving and would not allow the vehicle to return with our group. On the highway, it started exhuming smoke and near a toll-way, Goofy and Greasy Pole had abandoned the jalopy on the side of the road. They would later be rescued by RB , with Magoo and Boner.
If it were not for RB's strong leadership, the trip again would have been kaput, and Goofy and Greasy Pole would probably be still sitting on the side of Highway 88.
But the damage was done. Even without the dilemma of walking into pump showers, it was just a matter of time before the "fear" would get you...
(And it eats cars).
Chris's car died...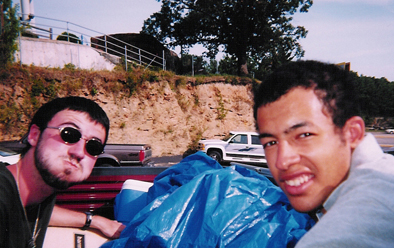 So Shane and him rode in the truck bed. At least it was warm.
F&L III - Statistics
Attendance: 5 Members (In Order of Seniority then Name)
Nicholas "Magoo" Prohl - Alpha Omega
Jonah "Boner" Schneider - Alpha Omega
Shane "Greasy Pole" Muir - Beta Beta
Chris "Goofy" Payne - Beta Gamma
Alison "Rainbow Brite" Oprzedek - Beta Zeta
TC COTU: N/A
(Well... Not exactly again. Nick played Jonah a lot, and Chris sucked, so he just watched. Shane only drinks "SoCo", and you really don't want to play with that. In the end...we all won)
LANDMARKS CONSTRUCTED: N/A
FUN FACTS:
- This trip had no members from the two most recent classes at the time "Beta Eta" and "Beta Theta". This was due to the fact that many people thought this trip was lame. How times have changed.
- F&L III marks the first time the group went into the lovable brewery / eatery called "Moosejaw". They have good food... and good beer.
But its too crowded now.
- Jonah Schneider would not allow us to buy "easy light" campfire material, and chose to widdle every goddamn campfire. While he was very efficient as a boyscout, we had to be cold for half an hour due to his anal retentiveness.
____________________
Chris "Goofy" Payne (Beta Gamma)
AKA Mini Tiger Woods